"20-20 voice" Cancer
are proud to 'open up' this resource to all people/bodies wishing to learn about all matters throat/oral cancers. We do NOT claim any form of copyright (as some do) for we are proud of the knowledge herein and extremely hopeful that it will benefit someone, somewhere, suffering from cancer. Should you wish to copy/reproduce any of our information then please feel free to do do as we will be updating at every opportunity.Thank you.
Phil Johnson

(Chairman:

"20-20 voice" Cancer

)
"

Another fine mess you got me in Stanley

" comes to mind as you slowly come round from the anaesthetics they given you to to 'keep you under' whilst allowing a herd of bull-elephants to stomp all over your lower face & neck – good job you are allowed morphine for a couple of days whilst the body fights and starts to repair itself! Welcome to the frightening (at first) world of the laryngectomee!
***** This is the 'gory bit' for the long suffering relatives of those who have just come out of surgery. The good news is that your beloved can no longer rabbit away in your earhole and drive you daft (not that it is easy to cope with the
enforced silence either, but there you go, can't have it all ways!) That's the joke out of the way folks! What your beloved now needs as they lay in their hospital bed is as much encouragement as you can muster for they are most probably frightened to death, unable to speak & (most probably) on a morphine drip. Speak to them gently, loving hands on a furrowed brow work wonders and provide pen & paper for communications etc. Your beloved is immobile because of tubes, drips, leakage bags, catheters and 'Gawd only knows what else' goes with a full laryngectomy, so you have to be strong and you have to be their strength too! After 5 days your beloved should be upright and able to totter about again, which is a wonderful feeling of freedom etc (even if still attached to drip-trolleys). Walk with them as you talk-the end of the ward is the first major achievement (but make sure that there is a seat available at the other end first!) No excitement needed, just keep calm and keep your beloved calm at all times and you'll see the improvement day by day. Remember: one step at a time & every day is a new day of achievement!
***** Happily the first few days are mostly restful with a few 'hiccups' as you slowly realise that the 'pointy thing' on your face is no longer functional and nor the mouth for breathing purposes as you feel life's breath entering and leaving through a small plastic tube at the bottom of your neck. DON'T PANIC. That tube is your life whilst the body heals itself and will be removed soon enough – and it is now, most importantly, the means by which the body can expel any mucus, dried blood etc from your breathing tube & lungs! The tubes 'inner tube' can easily be removed and washed out so so don't panic if you feel clogged up to start with. I remember when the nurses showed me how to gently remove the inner tube, wash it out & (God forbid) re-insert: I was horrified! But, and there's always a but, things rapidly improve and after a couple of days I was expert at removal, washing, cleaning AND re-inserting. Now I am not a doctor, just a humble lary, so I cannot direct what you do or inform you of any medical solutiuons to any medical problems but I can advise….having been there, seen it all (mostly) and chucked several T-shirts in the bin!  Remember: one step at a time & every day is a new day of achievement!
Before we go through things bit by bit it may suit to be wise and listen to this video recording: https://www.youtube.com/watch?v=xeJid_fPT8Y&feature=share&fbclid=IwAR2-lSWQ6tUndKnFj42RNgZLmhyHnArJRATI5ZpxEdebtSqS30bDGohe2tA
So what I suggest to you is simply this:
…..Nurses: they are the backbone of the NHS, they are the carers, the dedicated girls (& boys) of the NHS that tend t
o your every medical need. They are very highly trained on ENT wards where lary 'newbies' go to recuperate and are so very helpful in all aspects of stoma care, tube care, cleansing care & drugs care etc and without you even thinking about it they are the ones that prepare YOU for that great day when YOU GO HOME! There are a 'thousand & one' new things to learn but don't worry about it, you are starting your new life and the simple way to reconcile that is to think of the alternative – being dead! Of course everything is confusing to start with but do NOT panic as everything can be & will be sorted out. It is one step at a time folks and that truly is the only way to go about this new life of ours. Your partner/carer will also have to learn all this new fangled stuff too for it is them that you will be relying upon once home. Learn your average 'sats':ie, heart rate, oxygen levels, temperature etc so that you can keep a constant check once home – they are YOUR guiding light as a lary.
Once home it is a great relief but then you have to start thinking for yourselves so the first job is to ensure that pen &
paper are always handy. This also where you will start your own communication lines, for instance, I always use 2 x finger taps (or knuckles) on a solid surface for 'YES' & 3 finger taps (or knuckles) on a solid surface for 'NO' – simplicity itself. You might also want to try facing each other and ennunciating (dealt with elsewhere) which is simply 'mouthing' the words & using breath. Yes I hear you all but it does work as my good lady can often tell what I'm saying even though there is no apparent 'voice' emitting sound. I also 'blow' raspberries by pursing my lips (don't know how else to describe it really) in two's & three's if the mood takes me.
…..Danger signs: There are a few things you need to be aware of as you start the rest of your life & 'stinky stoma' is one of them! Quite often, as the system settle down, and infection in the stoma itself or lungs may well start. You will
bring up more mucus, it will get thicker & it will change in colour too. "Get thee to thine surgery forthwith" is the 1st Commandment of all Larys for you have a nasty infection which will need a strong course of anti-biotics to rid the beast! There are many reasons for an infection and only a qualified Dr/Consultant will be able to tell you the cause but don't get too excited if a sample of the sputum/mucus is taken to send off for analysis as this is only to determine what the bug/virus/infection actually is-thus the correct anti-biotics can be applied. You must make sure that all equipment used in conjunction with your stoma is meticulously cleaned and that includes suction tubes, tweezers, tissues etc. Also, should you be unfortunate enough to get an infection it may be advisable to place a tiny 'dab of Savlon' around the edge of the stoma-but not in it! I would also advise that you purchase a can o0f Dettol 'All in One' Disinfectant Spray to keep the air around you a clean and safe.
…..Food: a rather important subject methinks! When you've had this major operation it is quite likely that you will
have a tube inserted into your stomach so that liquid food (not beer gents-sorry) can be fed into the system to keep you sustained etc. If you are not of that ilk then there are a few things you need to learn-and learn very quickly my friends. Whatever you choose to eat make sure it is soft and easily digestible. Mornings need to be Rice Crispies, Weetabix etc fully saturated in milk to start with because your food tubes will have been affected by all this trauma too. Take a teaspoonful at a time – after all you've got all morning to eat it! Once you get used to this new regime and you feel comfortable swallowing you can perhaps go on to chewing cornflakes/branflakes etc. After that you can really go to town with lightly toasted bread – suggest you remove the crusts etc. After that little exercise has been dealt with have a go at some very lightly scrambled eggs and see how they go down…..I think you've cottoned onto the chain of events/ progression by now so I'll leave you to it but just remember this: it's always just one step at a time my friends. However, we will point out one important factor and that is throat lubrication my friends! Many meals may require a good quota of gravy or other sauces to help them pass down the old food tube nice and gently-be warned! A medium rare steak ALWAYS goes down well with a Peppercorn sauce or two!
…..Bedtime: is up to you, but be sensible. You are now at HOME so you only have yourself & partner to do things, to
order you about, to make sure you are doing things the right way. This is not for everyone but some of you may feel a lot more comfortable in bed with a bed-raiser/back rest, a simple device to elevate the upper half of the body and help greatly with breathing etc It's a simple device that can set at various degrees of support and is very comfortable with a couple of pillows on it. I know that some people are concerned about the build up of mucus etc during the night so this is a great addition to your armoury. If you are prescribed a nebuliser and various solutions to use then ensure that you use them immediately before retiring to the 'chambre a la` kip' and you should be fine. These are also a great asset if you find that you suddenly need your 'neb' during the night as you can simply set the neb up, lean back & relax. Putting this on the 1st rachet with a couple of pillows is usually enough elevation but you soon get used to being on the 2nd ratchet if need be. Never panic, I know it's not easy, but always sit up, take some deep breaths and get your nebuliser on the go. Struggling to breathe (or clear the airway) is a horrible situation but the worst thing you can do is panic! Breathe steadily and try to 'cough up' the obstruction whilst preparing your nebuliser, if you don't get it the nebuliser will.
…..Stoma mirror: 'A what' I hear you asking? It's a miniature version of a 3-way dressing mirror that allows you to get a good view of your stoma and this is ideal for cleaning times etc. No matter who you are or how clean you keep
your stoma there are going to be times when the tweezers need to be employed and 'nasties' plucked from within. You'll often find that a good cough will clear the airway, but not always, and this is when your trusty mirror needs to be plonked in front of you and the tweezers used. OK, it's not every one's cup of tea but believe me when I tell you that you will feel 10 x's better when the stubborn 'alien' has been removed, secreted in a tissue, and you can breathe easily again! The same applies if you have a suction machine at home as the catheter/pipe snakes gently down the stoma/trachy tube (if you have one) and quickly sucks out the phlegm/mucus. The 3-way mirror gives you all angles to see what you are doing -simples!
…..Self notes: have a good laugh at this one but I'm not suggesting that 'the old marbles' have gone awol at all. Instead,
because we have so much to learn, and quickly too, I found that the 'stik-it' pad was invaluable as I left little notes for myself around the house as there is an awful lot to get used to! I even had a little note on the downstairs loo reminding NOT to lock myself in…..just in case I needed help (thank goodness I didn't!)
…..Air Humidifier/Steamer: yep, we got one of those as well, filled it up to the water mark and let it gently steam
the immediate vicinity…..and by jingo, what a tremendous help with breathing it was too! Not a nice subject but phlegm/mucus was a great deal simpler to exude than not having the steamer plugged in by my side. We have advised the 'Vicks Warm Air Vapouriser' (plug in) to several supporters and had no complaints back so that speaks for itself my friends! It's quiet, moistens the air nicely, certainly helps with breathing and automatically switches itself off when virtually empty – a Godsend if you doze off happily enjoying the vapours!
…..Air Conditioning: – especially in a car, is not a good idea as all you tend to do is to feel cooler but dry your stoma out
in the process; not the wisest move in the world. It is suggested that you always protect your stoma and, especially if you are a 'bib wearer' gently rub Vaseline around the edges (savlon will also protect) to keep the outer stoma moistened. Don't forget that the Air Humidifier (above) is a completely different animal to this one so don't get mixed up and cause yourself any problems.
…..Nebulisers: You may well find that a Nebuliser is a priority because the vapours provided go directly into your
stoma,thus into the lungs and immediately start to loosen/shift the mucus/phlegm that somehow always collects in there. Remeber that yoiur bodies 'plumbing' has now completely changed so you no longer 'cough it up' and dispose into a tissue via your mouth &, likewise, nor do you sneeze it out through your nose – as it no longer serves a purpose! Your Dr (or hospital team) will probably set you up with a nebuliser and any combination of Saline, Salbutamol, Ipatropium Bromide, Budesonide solutions etc depending on your needs. These all help to clear any congestions and also keep the breathing tubes open. Now don't start getting excited if you are recommended 3/4/5 times daily with any particular combination of the above as a lot depends on your body and the weather outside! (If it's cold & damp then my day is an indoors day with multiple nebs – but then we are all different). Should you have to buy your own we can recommend that you check out
these people
as this where we buy for our '
AirMed1000
' nebulisers for our hospitals when the need arises.
…..Exercise:
we all need it, we all do some but do we all do enough? If you feel up to it then try simply using the
bottom step of your staircase and step-up 5 times with the right foot lead and switch to a left foot lead. Do this twice in the mornings and twice in the evenings but don't force it, do not overdo things at an early stage. If you can double to 10 step-ups then all well & good but a steady, gentle exercise is just '
what the Dr ordered
' – or perhaps should have ordered! Once you feel stronger a little walk up the garden would be good …. and then perhaps to the local shop and so on. Remember, every day is a new day and it is literally '
one step at a time
'!
…..Going out:
It's great to be home again but curb your enthusiasm for trotting off here, there & everywhere because it's a big new world out there folks! When you feel up to pottering about the home I would suggest that you start your 'trips out' by walking up and down the garden path or twice around the lawn and get used to the 'fresh air' –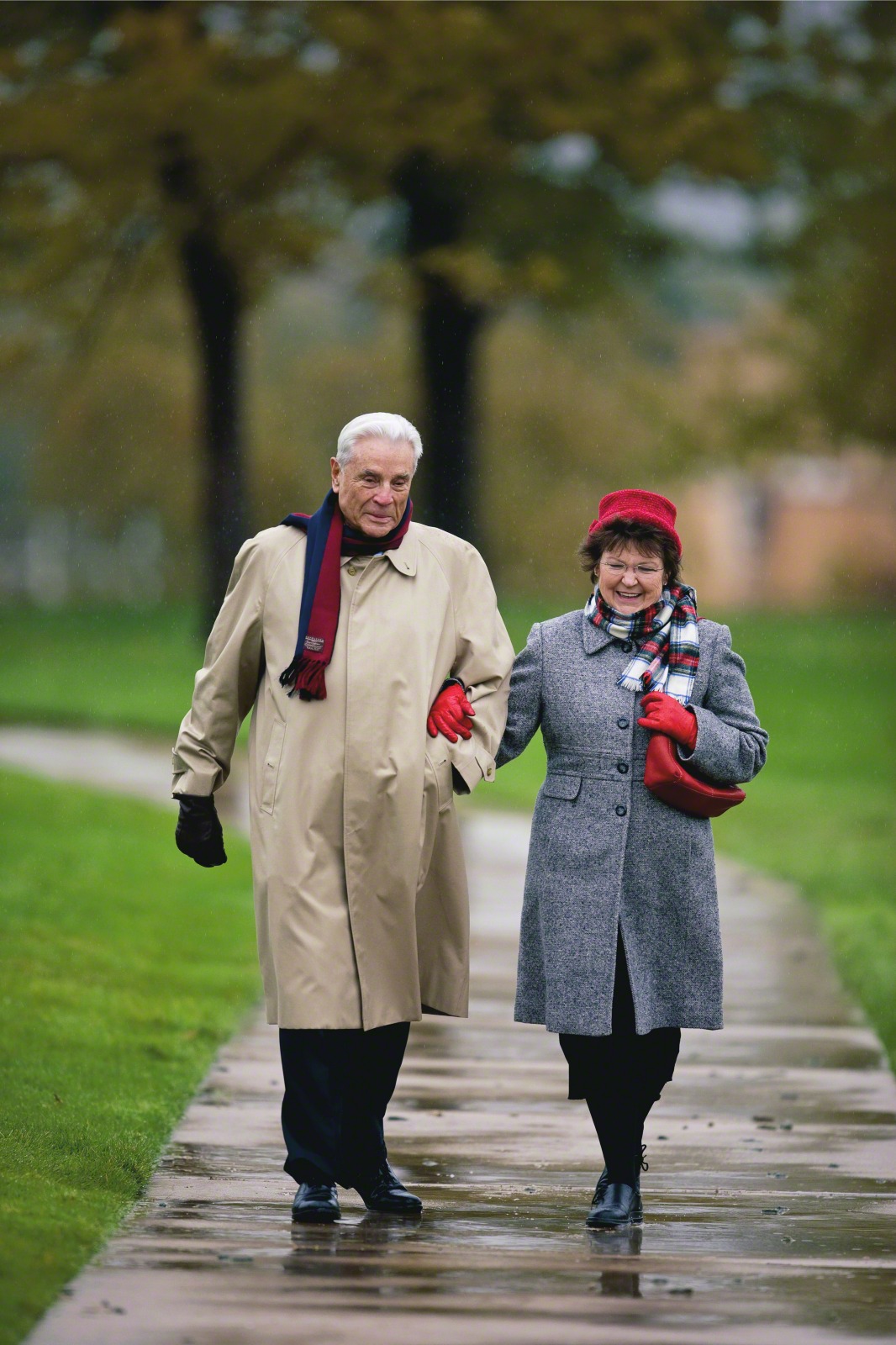 because it's different to what you have got used to being cooped up in hospital/home for a while. Plus of course you need to get used to the outside air attacking your stoma! Any chance of temperatures being on the lean side then
think scarf
, easy to breathe through, protects your new breathing device and is easy to remove if not needed.
DO NOT
allow cold air to march into your stoma or you
WILL
pay the price! When the first 'into town' trip arrives don't go alone, always have a companion to help you should you get into any difficulties (coughing, spluttering, sneezing, gasping for air, breathless, sudden tiredness, dizzyness etc), you'd be amazed at what can cause you mental havoc out there, but, there is a cure for all this I promise you! Any of the above occur simply sit down/lean against a wall asap and get you breathing under control – DON'T panic. People stared at me because I was expressive when getting my breathing under control (by having my arms bent at the elbow and lowering them gently from chest to waist as I slowed my breathing down). I didn't care what people thought as the most important thing was to control my breathing and stay calm – and anyway, who cares what others may think?
"There but for the grace of God" etc etc?
As you get stronger and more independent you will find that you will want to venture further, which is fine, but always remember the basics and learn what you always need to carry with you 'just in case'.
…..Water/Showers:
Guess what folks? A small matter very few of us think about until we actually come to do it!
We get home start relaxing and fancy a nice shower-great idea-but there is one major stumblig block to face. How do we shower in safety: ie, without semi-drowning ourselves? I'm afraid that the answer is blindingly simple when you think about for all you need is a 'lary mask' (depicted) and a large
plastic bib
(page 42: AS3835) to ensure that water can't get in that vital breathing hole. The bibs 'do up' at the back with velcro and  are easy to order up from
Countrywide Supplies
in Nottingham (delivery is excellent too). Now please note that these are not the normal 'over the face/nose' oxygen/breathing masks as these are designed to cover the stoma and protect that vital little area. If the 'lary mask' has an opening at the end (on the right angle) then cover the hole with a plaster and draw breath in through the bottom of the breathing tube – which would normally be attched to your oxygen. Showers certainly becaome more pleasurable I assure you. Happy showering folks!
…..Time: there is no set time for a full recovery from this monster, life changing operation. We are all different and
our bodies all react in slightly different ways so don't start worrying that you are not yet doing something that someone else is- your turn will come when your body is ready. What we go on is an emotional roller coaster like no other, the highs, the lows & the 'i just don't knows' are in abundance but we must remember that every day is a new day and every day is another step forward – positivity is the key!
…..Driving: Being a lary can cause some serious driving problems  when it comes to the dreaded mucus. No matter how many nebs you may have done before driving the car/van/lorry/whatever there may well be occasions when a serious coughing bout may start as you are sitting in traffic, driving along etc. It comes with no warning, maybe a little tickle in the tubes but then a full blown eruption starts and the head swims. There is a plug/slug/mucus lump stuck in there that needs to come out & driving the car is NOT the place to try and force it out. Pull over, put the 'hazards' on to let people know that you are there, try to control your breathing but also try to force the plug/slug/mucus lump up and out. Trust me, when it is out you need to sit still for a couple of minutes to regain control of your breathing. This why all lary's can get a seat belt exemption certificate – restriction of breathing! I've always hated seat belts so the exemption has been a Godsend for me! Funny how this cloud has a silver lining!
…..Rejection: Now you might find this very strange but some people cannot cope with you AFTER the operation and when you are out and about! We are no different to before the operation excepting our voice has completely changed…..and we now sound like a Dalek! Don't ask me why this is but some people just cannot adjust to your new voice, even though you have had to! They seem unable to enjoy the joy of you still being alive and you being out enjoying yourself. The hardest bit to bear is when you re-appear at your local boozer after a rather long absence and people you've known for years simply turn away from you-it's very hurtful and can make you want to curl up in a corner out of the way. DON'T! Talk to those who accept you for who you now are (Dalek boy/girl) and 'sod the rest' as they say for they obviously weren't really your friends in the first place! When you try to order your first pint/drink pick a moment when the bar is quiet as you may not be heard with the general hubbub of a pub – mind you if the smoking ban did anything it cleared an awful lot of people OUT of the pubs so there aren't that many pubs left where the 'general hubbub' would actually affect your ability to be heard. This is just a gentle warning for you not to expect too much upon your return to society for it is very easy for disappointment & despair to set in!
…..Blue Badge Scheme: The answer is yes, you are fully entitled to apply & receive a 'Blue Badge' which enables you to park in far more places than other motorists and this is a big, big bonus because, as a laryngectomee your
breathing ability will be much affected (hence the seat belt exemption) and therefore your walking ability will also be retsricted. Apply immediately to your local council for your Blue Badge and get a couple of cheap disabled stickers online to put in your car. One word of warning for all councils are out to get as much revenue from parking fines as they possibly can:- if your dashboard top is
sloped or irregular, employ a couple of bits of 'blu-tac' to hold your Blue Badge in position so that it can be clearly seen – just imagine your dismay if you return to your vehicle, find a ticket slapped on the windscreen and your B/Badge laying on the car floor!
We will shamelessly ask a small favour of you all please? Would you all be kind enough to sign up with 
https://www.easyfundraising.org.uk/causes/2020voice/
and ensure that you point all donations towards this charity – you only need to enter the charity name and their system will automatically find us. It is a simple way to raise funds for this charity when purchasing goods via Amazon. Thank you. Don't forget that when you go through easyfundraising.org.uk there are now many holiday companies in the scheme so your week/fortnight away can help this charity too!

We will add to this section as other things arise for we get plenty of questions – always good!